Serious business people could always use some Holiday cheer, especially around the work place. Whether your recipient works in an office or a cubicle, they'll love some of these top rated gifts; especially if they love Mac. Tech gifts in general are fun, but being a Mac lover, if I received this as a gift, rather than purchasing it for myself, it just makes everything that much better, and definitely more worth it.
1) The MiFi 2200 Mobile Hotspot (pictured above). If you're a business person who travels a lot, it's got to be an inconvenience if you always have to use the hotel internet or find the nearest Starbucks. WHat about if you're on a bus? Waiting to catch your flight at an airport that doesn't offer free WiFi? This handy little gift will give your business person the luxury of having internet where ever they go. This device allows you to connect up to five Wi-Fi enabled devices to the 3G wireless internet.
2) Wireless networks are convenient, but they're not always that fast, especially when you're in a place with a bunch of people, such as an airport. Western Digital's WD LiveWire Powerline AV Network Kit is a great solution when you want extended Internet in any room that has an electrical outlet, and when you're looking for something with extremely easy setup. Plug one of the included devices into a router and an electrical outlet, then plug the other into an electrical outlet in another room or even on another level of the house (if applicable). Each device has four Ethernet ports allowing the user to attach computers, TVs, hard drives, game consoles, and more. YOu can buy this product for only $140 at Western Digital.
3) A USB drive that doubles as a paper clip. Store 'n' Go Clip-it USB drive by Verbatim can be used to clip together print-outs and digital files of any kind of work, and that work can be stored on the USB device itself. You can purchase here starting next week for $20 in pink, green, orange, blue, or black.
4) Doxie allows you to portably scan your documents documents, business cards, photos, receipts and more, then send the resulting PDF, PNG or JPEG file straight to your favorite desktop program or to Web services like Google Docs, Evernote, Picasa, or Flickr. Doxie costs $149.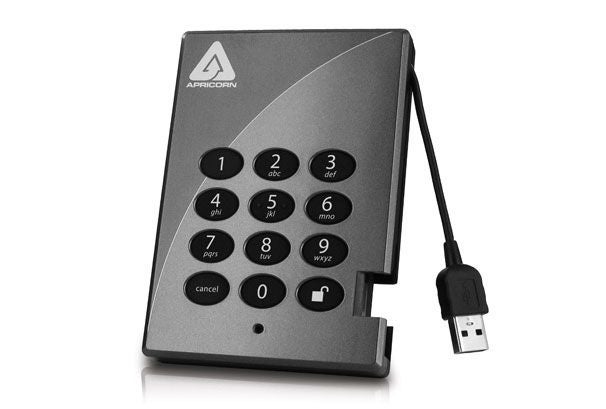 5) Do you take security seriously? Then you need the Aegis Padlock 750GB which is a portable USB hard drive that includes hardware encryption. It requires users to input a PIN number on the built-in keypad. As with anything, incorrect repeated tries to enter a PIN will destroy the encryption and put the padlock on it's own lockdown so it's hack-proof. You can buy it here for $200.
6) This is for the ultimate geek, especially if you require a key card or photo ID to enter your work building. The

Apple Retractable Badge Holder

is embellished with the Apple logo and clips right onto your pocket for only $13. Purchase from

The Missing Bite.