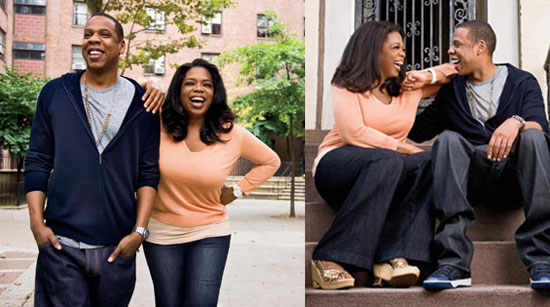 Oprah has never been a fan of Rap…mostly becuase of the outdated term "gansta rap" but also because of the nature  of the themes in a lot of rap songs and the excessive  use of n, b, and h words….so what's up with her and Sean Carter…A.K.A. Jay-Z?
Jay-Z had O touring his Brooklyn neighborhood and even strolling arm-in-arm with the former drug dealer through his old stomping grounds, Marcy Projects.  Then on January 1st, Oprah chose to kick off her "Master Class" biography series on OWN: Oprah Winfrey Network with an episode featuring Hov
Despite the fact that his lyrics contain every one of the aforementioned words that Oprah finds offensive – most notably the N-word – was Jay-Z the one rapper able to change her mind about rap?
"He hasn't changed my mind about rap, he has opened my mind," Winfrey told me exclusively. "What we did on our show was agree to disagree. I still have my opinion about the N-word, and he still has his.  I can see his point of view and he can see mine.
"I mean, I would say he's become a really good friend of mine because of that. We agree to disagree."  "His book is fantastic," she added. "There's a thing in his book where he talks about rappers are trying to tell stories that the rest of the world doesn't want to hear. And I realized that I was closed to wanting to hear it. So the difference is I'm now open to hearing it."