Justin Timberlake's new vibe is a little futuristic and VERY naughty. He's the king of creating and conquering new sound and we don't think anything is going to change now.
His new album "Man of the Woods" is on it's way, arriving February 2nd. He just released his first single from the album, "Filthy," and the music video is NSFW.
Like his new sound? You can expect 3 more singles to be released before the album's arrival – so prepare to party.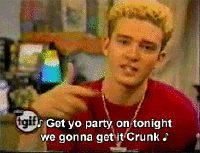 Rat & Puff
Comments
More From 98.7 AMP Radio - More Hit Music Every Hour