Everyone has a fantasy about what they'd do if they won the lottery, but for the 20 year old in Florida who won $451 million this weekend, he doesn't have to fantasize. After winning the fourth largest sum in the Mega Millions lotto history, Shane Missler has said that he is going to use his millions to take care of his family but most importantly, do good in the world.
In a statement, Missler said, "I intend to take care of my family, have some fun along the way, and cement a path for financial success so that I can leave a legacy far into the future. I have always been one to encourage the idea of chasing dreams and I believe life is about the pursuit of passion. I am 20 years old and my journey has only just begun."
He's already set up a company called "Secret 007, LLC."
What would you do with that kind of money?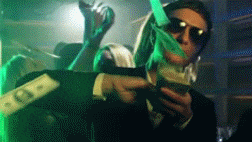 Rat & Puff
Comments
More From 98.7 AMP Radio - More Hit Music Every Hour